Please telephone Kevin Burge or Darron Maggs anytime for friendly advice on 01452 452015
County Clearance are just as happy to clear a single item for you, or we can clear the entire contents of a house including the loft and outside areas.
We are very happy to carry out property clearances of all sizes and there really is no job too small or too big for us! You might have a few items that you need to be cleared, or you might have a large house complete with an attic, basement and outbuildings. We would approach both jobs in the same professional and friendly manner, and our fully-inclusive charges would be very competitive. With a variety of different-sized commercial vehicles available, we will use the most appropriate van for the job which can often mean no need for a return trips, a quicker clearance, and a cheaper price.
Keen to reduce our carbon footprint we recycle and reuse as much as possible.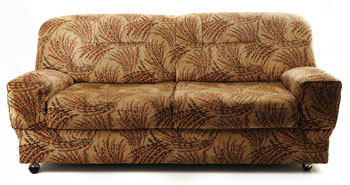 If you have fallen out of favour with your old settee, why not ask us to dispose of it for you. Other single items we are regularly asked to dispose of are fridges, freezers, wardrobes, chest-of-drawers and electric cookers.
Please telephone us anytime, seven days a week, on (01452) 452015 for expert advice.
When carrying out a full house clearance, we are often asked by the customer to empty the house completely, even going as far as taking out the kitchen appliances, carpets and curtains. Every job is unique and we work to the client's instructions. If we are unsure of something then we will ask you to ensure you are 100% satisfied with the quality of our work, and that there are no misunderstandings. If you want us to leave certain items, or take them elsewhere, that is not a problem.
If you are not local (you might even be abroad), we can collect keys maybe from a neighbour, solicitor or the estate agent. Once the job is completed, we can either return the keys, or post them to you by special delivery. We are very happy to take either photographs or a short video to send to you by email showing the work we have carried out.
From your initial response to my email enquiry through to receiving the invoice, I have been impressed with your 'can-do' attitude. Thanks again.
D Wilmot, Stroud
If during the clearance of a property we find important paperwork such as birth certificates, deeds or passports, we will keep these safe and return them to you, if required. We work in a sensitive and responsible manner.
The price we quote is the price you pay. We do not charge extra for working early mornings, evenings or weekends. We are reliable and trustworthy and you will never be left with a partially cleared property. Whatever you ask us to be removed will be disposed of in a responsible manner, and all items are either recycled or reused whenever possible.
You can call us anytime, seven days a week, on (01452) 452015 for expert advice and a no-obligation quotation.
You can email your message to us at clearance@countyclearance.co.uk with your enquiry.