Please telephone Kevin Burge or Darron Maggs
anytime
for friendly advice on
01452 452015
Get an estimate by sending photographs and a description to
clearance@countyclearance.co.uk
Able to clear any amount of rubbish from your Gloucestershire home or garden at great rates, we are the equivalent of a man and van rubbish collection service.
County Clearance are the Gloucestershire equivalent of a man and van rubbish collection service and almost always work out cheaper (and less hassle) than hiring a skip. Available to take almost all types of rubbish, junk and garden waste, we have green credentials and focus on recycling as much of the material we take as possible. Typically, around 85% of the material taken will be recycled with the non-recyclable waste being properly and legally disposed of.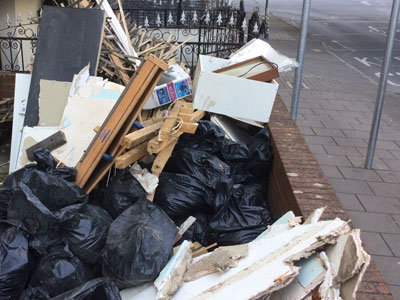 We can collect your rubbish whether it is just a few black refuse sacks, a pile of fly-tipped waste, or a garden full of junk.
With several Luton vans covering the Gloucestershire area, we are often available at short notice and can provide estimates over the telephone. Alternatively, you can email a description of the waste and rubbish, together with photographs, and we will get back to you with the price.
Environment Agency Registration No. CBDU228788
Proud to be fully licensed as a waste carrier by the Environment Agency
Waste removal and rubbish collection by a fully licensed waste carrier:
Fully licensed by the Environment Agency
We can provide estimates over the telephone
Cheaper than hiring a skip
Covering Gloucester, Stroud, Cheltenham, Tewkesbury, Cirencester, Dursley ...
All rubbish removed in Gloucestershire
We recycle and do our best to avoid landfill
Hippo bags and skip bags removed
Bricks, soil, plasterboard, etc.
Used by builders and bathroom fitters
Old carpets and underlay removed
Sheds dismantled and removed
Beds, mattresses, sofas, wardrobes, etc.
Only pay for the waste we remove
County Clearance are able to remove almost any type of rubbish and garden waste waste with very few exceptions - such as medical waste, hazardous waste, chemicals and asbestos. We will recycle as much as possible because we think recycling is the right thing to do and it helps us to avoid expensive landfill charges.
We are happy and able to dispose of a few black sacks of rubbish, an old kitchen or bathroom, or even 20 tonnes of soil and hardcore. Trusted by scores of local tradespeople, householders and businesses to dispose of their rubbish in a responsible and ethical manner, we are the first choice in Gloucestershire if you have waste to get rid of.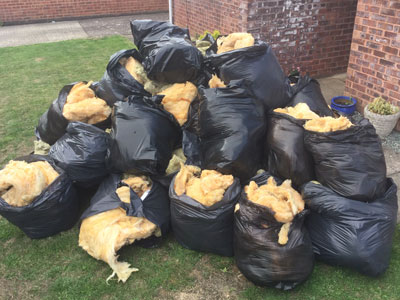 We can collect your rubbish and waste from anywhere in Gloucestershire. We can even travel outside the County if required. Call us on (01452) 452015 with your specific requirements.
We love working for individuals and small businesses in Gloucester, Stroud, Cheltenham, etc. but over the past six months, we have also carried out rubbish and waste clearance work for Stroud District Council, Gloucestershire County Council, the 2gether NHS Foundation Trust, Gloucester City Homes, Barnwood Trust, various housing associations, and many of the regions leading solicitors, estate agents, surveyors, builders, and residential letting agents.
County Clearance are also pleased to have worked for several well known local people and celebrities. We have been kept busy collecting old and broken fence panels from Luke in Longlevens, plasterboard and bricks from Peter in Pittville Lawn, a greenhouse from Glenda in Gloucester, a dismantled shed from Doreen in Dursley, tiles (and the rest of the bathroom suite) from Timothy in Tewkesbury, and a van load of cardboard, bubblewrap and old packaging from Simon in Stroud. I nearly forgot, but we emptied a double garage for Coleen in Cheltenham - it was in a cul-de-sac in Charlton Kings!

County Clearance are authorised and licensed by the Environment Agency
Registration No. CBDU228788
to transport and dispose of waste products. With very few exceptions, we can take nearly all types of builders waste, fly-tipped rubbish and household items. Sofas, armchairs, mattresses, black bags, plasterboard, furniture, electrical appliances, beds, bricks and concrete, etc, etc, - we can take it all away and get it legally disposed of at a truly great price. Call us on
(01452) 452015
for honest and knowledgeable advice from a rubbish expert!
We can collect your rubbish whether it is just a few black refuse sacks, a pile of fly-tipped waste, or a garden full of junk. We are able to offer some of the most competitive prices in the Gloucestershire area which will be fully inclusive of labour, insurance, fuel, and waste disposal charges. We are not registered for Vat which automatically makes us 20% cheaper than some other rubbish clearance firms in the area.
It doesn't matter whether you are a private individual or a business customer. We are able to clear rubbish for anyone and the competitive price will be exactly the same. Our business customers do not subsidise our domestic customers and vice versa.
Now that you have cleared the pile of rubbish from my garden I am looking forward to using it again for the intended purpose. Roll on those summer months.
Simon B, Stroud
If you hire a skip, you might need to get a permit to keep it on the highway and you will have to fill it yourself. You will also pay for the skip regardless of whether you fill it completely, or worse still you need more space and have to get a second skip. With our man and van rubbish collection service, you don't need to organise a permit, you will get 'free' labour to load your rubbish, and you will only pay for what we remove.
Why waste your time with skips? They are rubbish!
The typical size of a medium sized skip in Gloucestershire is 6 cubic yards. The large vans that we use at County Clearance carry at least twice this amount of waste based on volume. In fact, we have previously carried over 14 cubic yards of waste away from a property in one trip. Like skip lorries, we are restricted on the gross weight we can lawfully carry, but we are nearly always cheaper (you could save ££'s) than hiring a skip - and we offer free labour to move your rubbish and waste!
If you have been gardening and don't want the tedious job of bagging up the waste to take to your local recycling centre, we can get it taken away and disposed of at a licensed recycling facility or waste transfer station. County Clearance will collect all your garden waste and take it away for you. Garden waste, including tree and hedge clippings will be composted and recycled. We do not allow green waste to be put into landfill.
We are licensed as a waste carrier by the Environment Agency, and insured to remove rubbish so please get in touch with us anytime, seven days a week, on (01452) 452015 for expert advice and a no-obligation quotation.
You can email your message to us at clearance@countyclearance.co.uk with your enquiry.
Environment Agency Registration No. CBDU228788
Proud to be fully licensed as a waste carrier by the Environment Agency