Please telephone Kevin Burge or Darron Maggs anytime for friendly advice on 01452 452015
Able to clear any amount of rubbish from your Gloucestershire home or garden at great rates, we are the equivalent of a man and van rubbish collection service.
County Clearance are the Gloucestershire equivalent of a man and van rubbish collection service and almost always work out cheaper (and less hassle) than hiring a skip. Available to take almost all types of rubbish, junk and garden waste, we have green credentials and focus on recycling as much of the material we take as possible. Typically, around 85% of the material taken will be recycled with the non-recyclable waste being properly and legally disposed of.
Environment Agency Registration No. CB/XE5546FE
Proud to be fully licensed as a waste carrier by the Environment Agency
County Clearance are able to remove almost any type of rubbish and garden waste waste with very few exceptions - such as medical waste, hazardous waste, chemicals and asbestos. We will recycle as much as possible because we think recycling is the right thing to do and it helps us to avoid expensive landfill charges.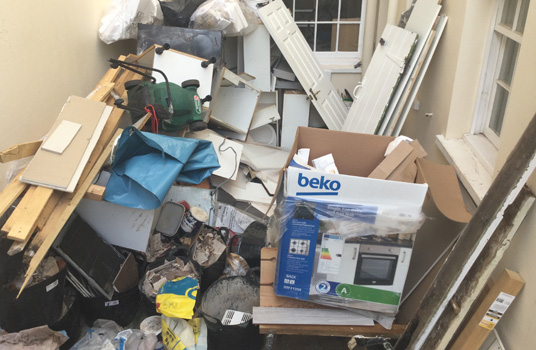 We can collect your rubbish whether it is just a few black refuse sacks, a pile of fly-tipped waste, or a garden full of junk. We are able to offer some of the most competitive prices in the Gloucestershire area which will be fully inclusive of labour, insurance, fuel, and waste disposal charges. We are not registered for Vat which automatically makes us 20% cheaper than some other rubbish clearance firms in the area.
It doesn't matter whether you are a private individual or a business customer. We are able to clear rubbish for anyone and the competitive price will be exactly the same. Our business customers do not subsidise our domestic customers and vice versa.
Now that you have cleared the pile of rubbish from my garden I am looking forward to using it again for the intended purpose. Roll on those summer months.
Simon B, Stroud
If you hire a skip, you might need to get a permit to keep it on the highway and you will have to fill it yourself. You will also pay for the skip regardless of whether you fill it completely, or worse still you need more space and have to get a second skip. With our man and van rubbish collection service, you don't need to organise a permit, you will get 'free' labour to load your rubbish, and you will only pay for what we remove.
If you have been gardening and don't want the tedious job of bagging up the waste to take to the recycling centre, we can get it taken away and disposed of at a licensed recycling facility. County Clearance will collect all your garden waste and take it away for you. Garden waste, including tree and hedge clippings will be composted and recycled. We do not allow green waste to be put into landfill.
We are licensed as a waste carrier by the Environment Agency, and insured to remove rubbish so please get in touch with us anytime, seven days a week, on (01452) 452015 for expert advice and a no-obligation quotation.
You can email your message to us at clearance@countyclearance.co.uk with your enquiry.